Every portrait of St. John Vianney that I could find online exudes light, warmness, and kindness. Thin smiling face framed by silver hair looks like a face of a grandpa about to pick up a grandchild.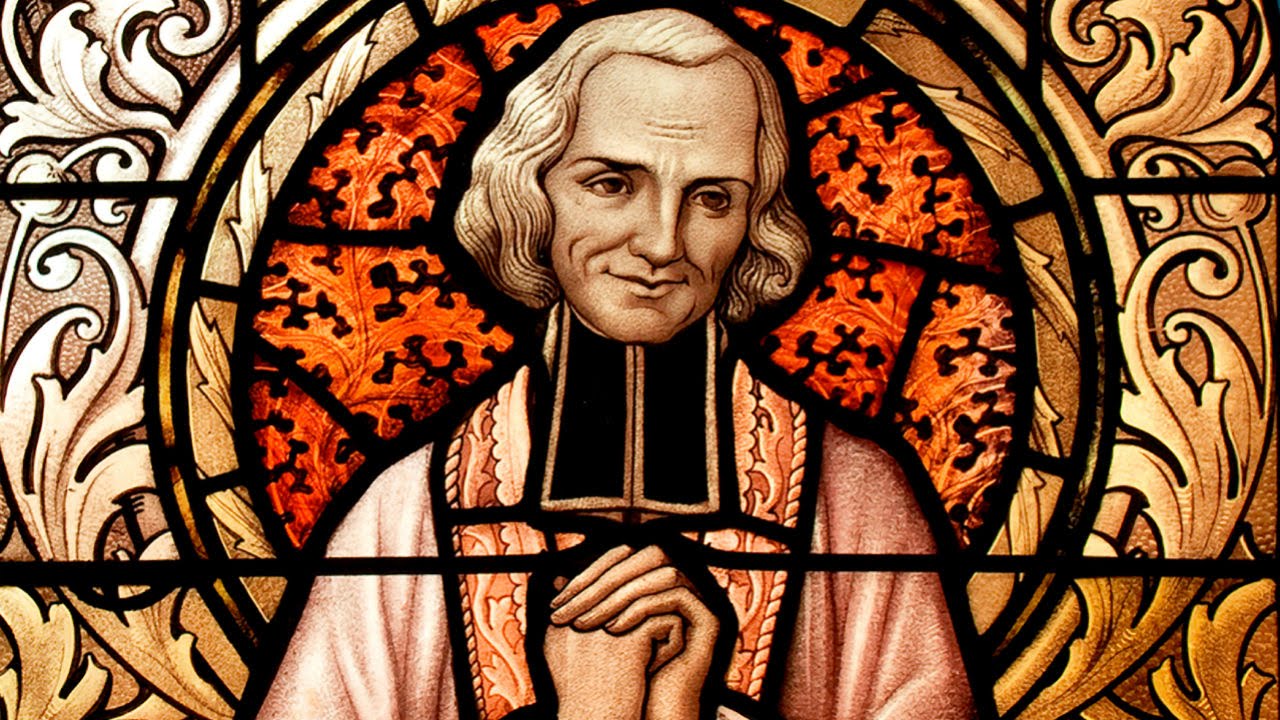 "All our religion is but a false religion, and all our virtues are mere illusions and we ourselves are only hypocrites in the sight of God, if we have not that universal charity for everyone - for the good, and for the bad, for the poor and for the rich, and for all those who do us harm as much as those who do us good. "
When exploring his life, we learn that he also had a strong will and humble heart, determination, and most of all love for our Lord.  
Jean (John) Marie Vianney was born on May 8, 1786 in a small village in France. He was fourth of the six kids in a devout catholic family. The end of the eighteenth century was not the best time to be a devout Catholic in France. It was the period of French Revolution, which was in the anticlerical phase.  The sacraments had to be performed in secret. Despite it being illegal, the Vianneys traveled to distant farms to attend Masses celebrated by priests on the run. No wonder that priests who risked their lives to perform sacraments became heroes in the eyes of little John.
A contemporary depiction of how the revolution treated France's higher Catholic clergy
He received his First Communion catechism instructions in a private home by two nuns whose communities had been dissolved during the Revolution. He made his First Communion at the age of 13 in a neighbor's kitchen; during the Mass, the windows were covered so that the light of the candles could not be seen from the outside. His practice of the faith continued in secret, especially during his preparation for confirmation.
Notre Dame of Strasbourg, turned into a Temple of Reason
In 1802 the Catholic Church was reestablished by Napoleon.  John knew that his vocation was to be a priest. He longed to get education, but only at the age of twenty he was finally able to leave his farm and pursue his calling. He studied in a school in nearby village, trying to learn arithmetic, history, geography and Latin. Latin was especially difficult since his previous education had been interrupted by French Revolution. Only his perseverance helped him to push through and continue studies.
In 1809 a new interruption came about: he was drafted to Napoleonic army. Normally ecclesiastical  students would be exempt, but Napoleon withdrew his exemption to get more soldiers!
Napoleon Crossing the Alps, romantic version by Jacques-Louis David in 1805
Yet, it seems like God's plans were different from Napoleon's. Two days after he had to report at Lyons, he became ill and was hospitalized, during which time his draft left without him.
Once released from the hospital, on 5 January, he was sent to Roanne for another draft. He went into a church to pray, and fell behind the group. He met a young man who promised to take him back to his group, but instead led him deep into the mountains of Le Forez, to the village of Les Noes, where deserters had gathered.
 Vianney lived there for fourteen months, hidden in the shed attached to a farmhouse, and under the care of Claudine Fayot, a widow with four children. He assumed the name Jerome Vincent, and under that name, he opened a school for village children. Since the harsh weather isolated the town during the winter, the deserters were safe from gendarmes. However, after the snow melted, gendarmes came to the town constantly, searching for deserters. During these searches, Vianney hid inside stacks of fermenting hay in Fayot's barn.
An imperial proclamation in March 1810 granted amnesty to all deserters, enabling Vianney to go back legally to Écully, where he resumed his studies. He was tonsured in 1811, and in 1812 he went to the minor seminary at Verrières-en-Forez. In autumn of 1813, he was sent to the major seminary at Lyons. Considered too slow, he was returned to Abbé Balley. However, Balley persuaded the Vicar general that Vianney's piety was great enough to compensate for his ignorance, and the seminarian received minor orders and the subdiaconate on 2 July 1814, was ordained a deacon in June 1815, and was ordained priest on 12 August 1815 in the Couvent des Minimes de Grenoble. He said his first Mass the next day, and was appointed the assistant to Balley in Écully.
"It is true that a Christian who lives in tepidity still regularly -- in appearance at least -- fulfils his duties. He will indeed get down on his knees every morning to say his prayers. He will go to the Sacraments every year at Easter and even several times during the course of the twelve months. But in all of this there will be such a distaste, so much slackness and so much indifference, so little preparation, so little change in his way of life, that it is easy to see that he is only fulfilling his duties from habit and routine .... because this is a feast and he is in the habit of carrying them out at such a time. His Confessions and his Communions are not sacrilegious, if you like, but they are Confessions and Communions which bear no fruit -- which, far from making him more perfect and more pleasing to God, only make him more unworthy. As for his prayers, God alone knows what -- without, of course, any preparation -- he makes of these."
from John Vianney's Homilies
In 1818, shortly after the death of Balley, Vianney was appointed parish priest of the parish of Ars, a town of 230 inhabitants.When Vianney's bishop first assigned him to Ars, he got lost trying to find the town. Two young men tending flocks in the fields pointed him in the right direction.
With help from Catherine Lassagne and Benedicta Lerdet, La Providence, a home for girls, was established in Ars.
"The soul hungers for God, and nothing but God can satiate it. Therefore He came to dwell on earth and assumed a Body in order that this Body might become the Food of our souls,"
When he began his priestly duties, Fr. Vianney realized many were either ignorant or indifferent to religion as a result of the French Revolution. Many danced and drank on Sundays or worked in their fields.
"Prayer is to our soul what rain is to the soil. Fertilize the soil ever so richly, it will remain barren unless fed by frequent rains."
Fr. Vianney spent much time in confession and often delivered homilies against blasphemy and dancing. Finally, if parishioners did not give up dancing, he refused them absolution.
"I tell you that you have less to suffer in following the cross than in serving the world and its pleasures."
He turned Ars a model parish and from which reports of his holiness and his supernatural powers soon spread. He was known for his devotion to the Virgin Mary and to St. Philomena and was dedicated to the sacrament of reconciliation (confession) for his parishioners. From 1824 he suffered attacks that he believed were caused by the Devil, who allegedly on one occasion set fire to Vianney's bed. By 1827 Ars had become a pilgrimage site, and, every year from 1845 until Vianney's death, about 20,000 persons visited Ars to see Vianney and especially to make their confession to him. The holy curé spent as many as 12 or 15 hours daily in his confessional. He was canonized by Pope Pius XI.
The body of Saint John Mary Vianney, entombed above the main altar in the Basilica at Ars, France.
The face is covered with a wax mask.
"You cannot please both God and the world at the same time, They are utterly opposed to each other in their thoughts, their desires, and their actions."