November 10th - Saint Leo the Great, Pope, Doctor of the Church (~400-461)
Leo is known as one of the best administrative popes of the ancient Church.  He worked at length to control the heresies of Pelagianism—overemphasizing human freedom—Manichaeism—seeing everything material as evil—and others, placing demands on their followers so as to secure true Christian beliefs.
A second major area of his concern was doctrinal controversy in the Church in the East, to which he responded with a classic letter setting down the Church's teaching on the two natures of Christ,  divine and human, united in one person, "with neither confusion nor division". With strong faith, he also led the defense of Rome against barbarian attack, taking the role of peacemaker.
From a pastoral perspective, he galvanized charitable works in a Rome beset by famines, an influx of refugees, and poverty. He further associated the practice of fasting with charity and almsgiving particularly on the occasion of the Quattro tempora, (the quarterly Ember days)
November 11th Saint Martin of Tours, Bishop (c. 316 – November 8, 397)
As a young man, he was forced to be a soldier, even though he wanted to be a soldier of God. He was ordained an exorcist and worked with great zeal against the Arians. He was later ordained as a Bisop of Tours, France, although  they had to trick him into coming. 
He was against  the common practice of putting heretics to death. 
November 12th Saint Josaphat, Bishop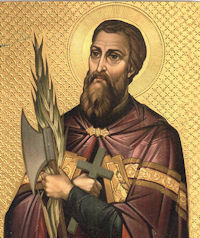 Saint Josaphat was a first Saint and Martyr in new Eastern  Rite Church at that time. In 1595, the Orthodox bishop of Brest-Litovsk in present-day Belarus and five other bishops representing millions of Ruthenians (now Ukrainians), sought reunion with Rome. John Kunsevich—who took the name Josaphat in religious life—was to dedicate his life, and die for the same cause. Born in what is now Ukraine, he went to work in Wilno and was influenced by clergy adhering to the 1596 Union of Brest. He became a Basilian monk, then a priest, and soon was well known as a preacher and an ascetic. 
As a Bishop, he was killed by angry mob in Vitebsk. 
Now Ukrainian Greek Catholic Church and Ruthenian Greek Catholic church are two of 23 Eastern Rite churches in whole union with The Catholic Church. They embrace a lot of people all over the world, including in America. Therefore, the blood of Saint Josaphat didn't fall in vain, but truly was the seed of the Church. 
November 13th, Saint Frances Xavier Carbini, Virgin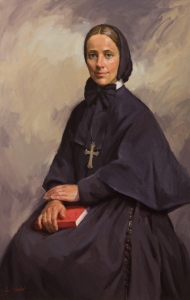 Saint Frances is the first American citizen, who was proclaimed a Saint. She was born in Italy and always dreamed of becoming a misionary to China, but Pope Leo XIII urged her to go to the United States, a nation that was becoming flooded with Italian immigrants who needed her help. "Not to the East, but the West," was his advice to her.
She started her work from building an orphanage, and was known for caring for the poor, the sick and the outcast.